Publicerat den
9 December 2009
under
Listan
av
Adam Svanell
.
8 kommentarer
.
23. Beyoncé, »Halo«
(singel & albumspår, I Am… Sasha Fierce, 2008)
»Duktig« är det värsta omdöme man kan ge om en artist. »Duktig« är vad jag brukar häva ur mig efter en konsert där artisten var intetsägande, ofta följt av kommentaren »det är kul att hon eller han håller på«. »Duktig« är antitesen till intressant.
Oavsett vad som sägs på landets musikhögskolor så handlar ju musik − åtminstone popmusik − varken om att kunna musikhistorien, behärska sitt instrument eller komponera intrikata harmonier. Allt det fyller givetvis en funktion. Men riktigt, riktigt bra popmusik bygger på mer svårdefinierade kvaliteter.
Det är de små nyanserna som gör att vissa artister kan framföra vilken sliten klassiker som helst och ändå gjuta nytt liv i den. Att Elvis version av »In The Ghetto« känns episk och drabbande, medan Christer Sjögrens tolkning reducerar den till ett klämkäckt kabarénummer. Att »Desperado« blir en habil ballad med The Eagles, en skvalig dussinlåt med Westlife, bedårande vacker med The Langley Schools Music Project och direkt skrämmande när den sjungs av Johnny Cash. (För att inte tala om Håkan Hellströms fina nästan-cover kallad »Nu kan du få mig så lätt«. Men det är en annan historia.)
Just det här manifesterades i det bråk som för ett drygt år sedan uppstod kring Beyoncé Knowles och Kelly Clarkson.
Sommaren och hösten 2008 var låtskrivaren Ryan Tedder inblandad i produktionerna av bägge stjärnornas kommande album. Beyoncés I Am… Sasha Fierce skulle släppas i november, Clarksons All I ever wanted några månader senare. Men när American Idol-sångerskan hörde r'n'b-divans skiva blev hon rasande.
Clarkson tyckte att albumets andraspår »Halo«, komponerat av bland andra Ryan Tedder, var slående likt »Already Gone« − en låt som hon själv hade skrivit tillsammans med Tedder. Hon försökte desperat ta bort sin låt från den kommande skivan, men den hade redan skickats till tryck. Till råga på allt valde bägge artisternas skivbolag att släppa respektive låt som singel.
I en intervju med kanadensiska CBC beklagade sig Kelly Clarkson: »Ingen kommer att sitta hemma och tänka ›oj, Ryan Tedder gav Beyoncé och Kelly samma spår att skriva över.‹ De kommer anta att jag har snott från henne.«
Här och var beskylldes Clarkson mycket riktigt för stöld. Låtarna hade ju samma ackordföljd, samma tempo och märkbart lika pianoslingor i verserna. Lustigt nog inleddes båda dessutom med ordet »remember«. Ändå verkade många lyssnare inte ens lägga märke till likheterna.
Det märkliga var att de två singlarna, trots det uppenbara släktskapet, ändå lät helt väsensskilda. »Already Gone« var radiopop av det mest utslätade slaget, en trallvänlig standarddänga som man kunde höra hundra gånger utan att riktigt lägga märke till den. »Halo« däremot, var en av 00-talets vackraste låtar.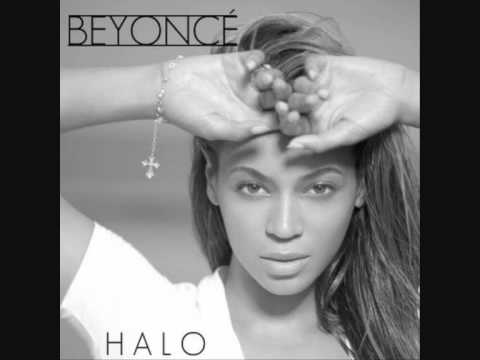 I den dynamiska balladen varvas pianodrivna verser där Beyoncé sjunger i sitt lägsta register, med en storslagen, helt knäckande refräng. Texten har påståtts handla om både hennes förhållande med Jay-Z, hennes gudstro och tv-spelet med samma namn. Jag tror att vi är många som kommer att minnas den som en signaturmelodi för 2009.
Beyoncé Knowles är förvisso en tekniskt skicklig sångerska. Den stora skillnaden mellan henne och Kelly Clarkson låg dock i att hon fyllde Ryan Tedders låtskelett med både smärta och nakenhet, något Idol-vinnaren inte kom i närheten av.
Beyoncé hade soul. Men visst var Kelly duktig?
Adam Svanell är frilansjournalist och redaktör för Musikmagasinet Novell. Han tycker att "Halo är 00-talets trettonde bästa låt. Hans starkaste upplevelse av den kom på en karaokepub i Midsommarkransen.
Lyssna också på:
Alicia Keys, »You Don't Know My Name« (singel & albumspår, The Diary Of Alicia Keys, 2003)
Audio clip: Adobe Flash Player (version 9 or above) is required to play this audio clip. Download the latest version here. You also need to have JavaScript enabled in your browser.
Whitney Houston, »Million Dollar Bill« (singel & albumspår, I Look To You, 2009)
Audio clip: Adobe Flash Player (version 9 or above) is required to play this audio clip. Download the latest version here. You also need to have JavaScript enabled in your browser.
Wyclef Jean feat. Mary J. Blige, »911« (singel & albumspår, The Ecleftic, 2000)
Audio clip: Adobe Flash Player (version 9 or above) is required to play this audio clip. Download the latest version here. You also need to have JavaScript enabled in your browser.
Lyssna på Nollnolltalet.se-listan på Spotify! Den finns både med Lyssna också-låtar, och utan.
Etiketter:
Alicia Keys
,
Beyonce
,
Mary J Blige
,
Whitney Houston
,
Wyclef Jean