Publicerat den
20 December 2009
under
Listan
av
Albin Grahn
.
Inga kommentarer
.
12. The Strokes, »Last Nite«
(EP-spår, The Modern Age, & albumspår, Is This It, 2001)
Jag hade inbrott på vinden i våras, och blev av med alla mina cd-skivor. Samlingen var inte särskilt stor, några hundra skivor som jag hade valt att spara. Några få skivor med ett verkligt affektionsvärde. Många med musik som jag fortfarande lyssnar på.
Innan pundarna lämnade vår vind passade de på att skita på golvet vid entrén. Sedan försvann de tillsammans med alla artister som gjorde mig sällskap under de där första åren på decenniet, när jag fortfarande köpte cd-skivor.
Bland dem som försvann fanns Julian Casablancas, Albert Hammond, Jr, Nick Valensi, Nikolai Fraiture och Fabrizio Moretti.
När The Strokes släppte Is This It hösten 2001 blev de ett av decenniets första riktigt hajpade band. Det talades om rockens återkomst. The Strokes återvände till precis de gitarrer, den stad och de berättelser som en tidigare generation skinnpajsmunderade New York-män, med Lou Reed och Velvet Underground i spetsen, hade representerat 30 år tidigare. Det var kärlek, sex och strul, korkade snutar, sena nätter och dagar efter. Det var rockmyten om igen.
Och det är klart att man ville ha den en gång till, med en vidunderlig singel som»Last Nite«.
Några takter skränig gitarr. Sen trummorna. Mer gitarrer. Bas. Och sedan Julian Casablancas som vrålar igång låten med ett utdraget Laaast Niite. Enkelt, tufft och bra. Det dög att förfesta till, dansa till och skråla med till rätt länge under 00-talet.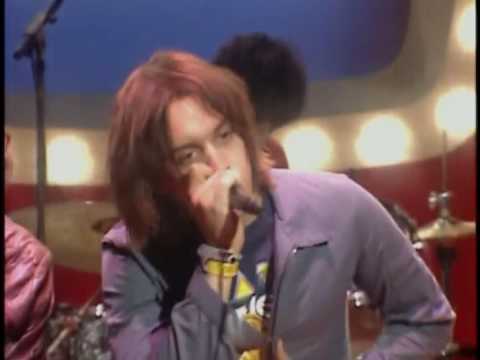 Från »Last Nite« löper tråden vidare till »Someday«, »Barely Legal«, och fantastiska »Hard To Explain«. Fantastiska rocklåtar kokade enligt precis samma recept. Is This It är en konsekvent och sammanhållen skiva, ett och samma uttryck varieras över de 11 spåren med envisheten hos ett band som just stigit upp på scenen och inte vill gå av.
När jag summerar 00-talet kan jag inte låta bli att fundera över varför The Strokes aldrig lyckades följa upp Is This It med något i samma klass. Någonstans bland de stulna skivorna från min vind låg också bandets andra skiva Room On Fire, med mer av samma sak. Och kanske var det på grund av det redan från början renodlade uttrycket som The Strokes inte lyckades. Andra gången kändes det mer som monotoni än som konsekvens, och det som på Is This It låtit klädsamt blasé kändes på andra skivan som ointresse. Då har jag hellre lyssnat på Albert Hammond, Jr:s soloskivor, som förvaltat arvet från The Strokes bättre än de själva gjort.
Skivan som jag köpte 2001 och lyssnade så många gånger på äger jag alltså inte längre. Men jag hoppas att Is This It, var den nu än befinner sig, får åka bil mycket och att någon, någon gång skrålar med i »Last Nite«. Det förtjänar den faktiskt.
Albin Grahn är journalist och redaktör för Musikmagasinet Novell. Har har också skrivit på Nollnolltalet.se om Justice, Belle & Sebastian och Beyoncé. Albin tycker att »Last Nite« är 00-talets fjärde bästa låt.
Lyssna också på:
The Strokes, »Hard To Explain« (singel & albumspår, Is This It, 2001)
Audio clip: Adobe Flash Player (version 9 or above) is required to play this audio clip. Download the latest version here. You also need to have JavaScript enabled in your browser.
The Strokes, »Someday« (singel & albumspår, Is This It, 2001)
Audio clip: Adobe Flash Player (version 9 or above) is required to play this audio clip. Download the latest version here. You also need to have JavaScript enabled in your browser.
The Strokes, »Reptilia« (singel & albumspår, Room On Fire, 2004)
Audio clip: Adobe Flash Player (version 9 or above) is required to play this audio clip. Download the latest version here. You also need to have JavaScript enabled in your browser.
Lyssna på Nollnolltalet.se-listan på Spotify! Den finns både med Lyssna också-låtar, och utan.
Etiketter:
The Strokes