Publicerat den
27 December 2009
under
Listan
av
Niklas Alicki
.
4 kommentarer
.
5. The Postal Service, »Such Great Heights«
(singel & albumspår, Give Up, 2003)
Jag kommer fortfarande ihåg dagen jag fick Give Up med The Postal Service. Det var en varm dag i juni 2003, dagen då jag tog studenten. Det var också den sista dagen innan jag insåg att relationer inte varar för evigt. Jag syftar inte på det här vuxna insiktsfulla sättet, utan på det barnsligt naiva. På det där sättet som långsamt – dag för dag – tar andan ur en.
Jag skäms nästan lite för att berätta det, för det är så oerhört blåögt. Men så var det verkligen. Människorna som hade samlat sig på min balkong den där dagen har en efter en försvunnit ur mitt liv. Jag fick skivan av två gymnasiekompisar i studentpresent. Den ena flyttade utomlands och den andra har nu flyttat tillbaka till sina föräldrar i hemstaden. Där fanns också min skinhead-kompis som introducerade mig för The Smiths och Nine Inch Nails. Han bor i Malmö nu, och vi ses bara någon gång då och då när jag slinker in på caféet han jobbar på. Min allra bästa kompis under gymnasiet var också där. Han flyttade till Australien i några år efter studenten, när han kom tillbaka hade han återfunnit sin tro på Gud och flyttade till Norge. Det var väl två år sen jag pratade med honom senast.
Allt det där var väl något jag egentligen visste innerst inne. Eller i alla fall borde ha insett vid 19 års ålder. Att människor kommer och går i ens liv. Men ändå – just där och då – hade jag ändå en bild av att de här människorna i min närhet alltid skulle finnas där. Att allt man hade delat med de runt omkring mig inte var förgäves.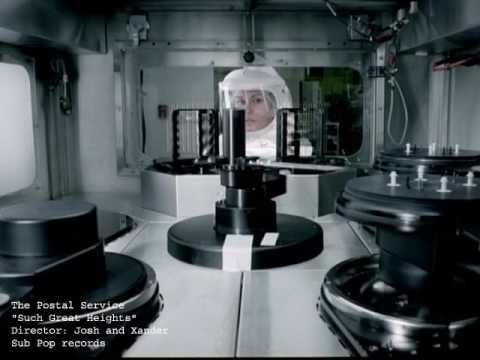 The Postal Service började som ett prestigelöst projekt mellan Jimmy Tamborello i Dntel och Ben Gibbard i Death Cab for Cutie. Efter ett samarbete i Dntels låt »(This is) The Dream of Evan and Chan« började de skicka ytterliggare låtfragment på posten mellan varandra. Det som kom att bli deras debutalbum – och hittills enda album – blev en oväntad framgång. Det mest sålda albumet på skivbolaget Sub Pop sedan Nirvanas debut.
Det där insåg jag ju, att väldigt många människor gillade skivan. Vilket en femte plats på den här listan borde vara det slutgiltiga beviset på. Men trots det så har jag alltid upplevt att The Postal Service har varit bara mitt. Jag har aldrig hört skivan spelats så värst mycket ute på klubbar, inte sett så många artiklar eller hyllande texter om den som man ständigt gör för andra skivor. Människor i min närhet verkar tycka att det är en bra skiva, men inte unik på något sätt.
Men nu är den som sagt på femte plats över 00-talets bästa låtar. Före alla Håkan Hellströms låtar, före hyllade R Kellys »Ignition (remix)« och före alla låtar på Daft Punks dansgolvsanthem Discovery. Jag är uppriktigt förvånad över att »Such Great Heights« hamnat så högt upp på listan.
Jag ska inte försöka mig på att gissa varför ni andra också verkar gilla »Such Great Heights« så mycket. Det enda jag kan hoppas på är att försöka förmedla allt låten har betytt för mig. Varför det är den enda låten jag har kunnat lyssna på regelbundet sedan den kom ut för sex år sedan. För i min värld där insikten av att inget varar för evigt har chockat mig så har den varit min fasta punkt. En markering från det mitt vuxna liv började. Ungefär som ett pojkrum som aldrig möbleras om till det gästrum det i verkligheten har blivit.
För mig symboliserar »Such Great Heights« ett minne från den sista dagen i barndomens naiva trygghet. På ett sånt där självklart sätt bara riktigt bra poplåtar kan göra.
Niklas Alicki är frilansjournalist och redaktör för Musikmagasinet Novell. Han tycker att »Such Great Heights« är 00-talets femte bästa låt.

Lyssna också på:
Dntel, »This Is The Dream Of Evan And Chan« (singel & albumspår, Life Is Full of Possibilities, 2001)
Audio clip: Adobe Flash Player (version 9 or above) is required to play this audio clip. Download the latest version here. You also need to have JavaScript enabled in your browser.
Modest Mouse, »Float On« (singel & albumspår, Good News For People Who Love Bad News, 2004)
Audio clip: Adobe Flash Player (version 9 or above) is required to play this audio clip. Download the latest version here. You also need to have JavaScript enabled in your browser.
Death Cab For Cutie, »The New Year« (albumspår, Transatlanticism, 2003)
Audio clip: Adobe Flash Player (version 9 or above) is required to play this audio clip. Download the latest version here. You also need to have JavaScript enabled in your browser.
Lyssna på Nollnolltalet.se-listan på Spotify! Den finns både med Lyssna också-låtar, och utan.
Etiketter:
Death Cab For Cutie
,
Dntel
,
Modest Mouse
,
The Postal Service