Publicerat den
29 October 2009
under
Listan
av
Gästskribent
.
3 kommentarer
.
64. Martha Wainwright, »Bloody Mother Fucking Asshole«
(singel & albumspår, Martha Wainwright, 2005)
Gästskribent: Erika Hallhagen
Det finns otroligt mycket politiskt korrekt som är så politiskt korrekt att det bara kan sluta i samma tomma känsla som när man väljer den torra hoummosmackan istället för den saftiga salami- och briefrallan. Hur mycket man än vill inbilla sig motsatsen.
Det är lätt hänt att få för sig att budskapet är allt med Martha Wainwrights »Bloody Mother Fucking Asshole«. Både text och titel innehåller så överväldigande många rätt − en sådant uppdämt vulkanutbrott av ilska, att det är logiskt att tro att själva tanken är bäst på papperet, som ett manifest över ett manssamhälle som man i olika utsträckning möter varje dag.
Det är då Martha Wainwright slår an de första stålsträngade ackorden som minner om all den musik en sjuttiotalist fått med sig med modersmjölken. Sedan börjar hon sjunga, hennes röst spricker på de höga vokalerna redan innan hon kommit till raderna: »I'm cracking up/And you have no idea/No idea how it feels to be on your own«. Det är som om små hår längs insidan av min ryggrad reser sig och fortplantar ett rys längs med nacken och upp i bakhuvudet. Som när en värktablett sätter in, eller käkarna slappnar av efter en hård vecka. Ni vet, med hjälp av ett glas lagom lätt rödvin och kanske en chokladbit, och en djup suck.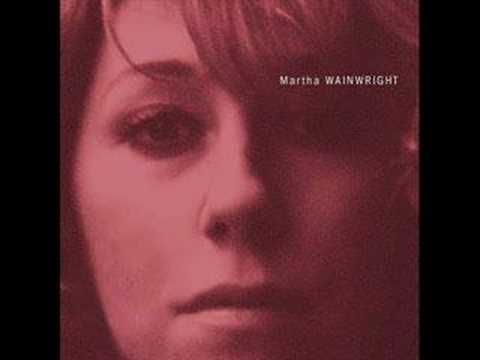 Kanadensiska Martha Wainwright växte upp med två folkmusiker till föräldrar – Kate McGarrigle, som tillsammans med systern Anna spelat i olika konstellationer sedan 1960-talet, samt Loudon Wainwright III som spottat ur sig skivor sedan 1970. Brodern Rufus har som bekant också en framgångsrik karriär som extravagant popstjärna av det finkultur-flörtande slaget.
Framförallt fadern har gjort sig känd för sina texter, många lysande som till exempel i fina låten »Sometimes I Forget«. Men man upptäcker snabbt att han, likt mången manlig självbiograf, målar världen i precis de färger som får honom att se mest fördelaktig ut.
Jag trodde någonstans i min enfald att »Rufus Is A Tit Man« − låten där han är avundsjuk på sin sons företräde till Kate McGarrigles bröst − är det bästa exemplet på hans omogenhet. Men det var innan jag läste intervjun där Martha Wainwright berättar om hur hon brukade tycka synd om kvinnan som pappans »I'd rather be lonely« handlar om. Hon citerar låtraden: »Every time I see you cry you're just a clone of every woman I've known« och fortsätter sedan krasst att berätta om hur hon en dag hör sin far på scenen presentera låten genom att säga: »Jag skrev den här om min dotter«. Martha Wainwright bodde som 14-åring ett år med sin pappa och låten handlade om det.
»Bloody Mother Fucking Asshole«, som är riktad till fadern och frammanad genom det sätt han kommunicerade till sin familj via sina låtar, är sinnebilden för den ultimata hämnden. Men även utan bakgrundshistorien står den stark.
Den sätter ett vasst finger på den frustration och uppgivenhet som göds i ett ojämställt samhälle. »Oh I wish I wish I wish I was born a man/So I could learn how to stand up for myself/Like those guys with guitars/I've been watching in bars/Who've been stamping their feet to a different beat.«
Framförallt beter den sig inte som en snäll flicka, den låtsas inte som om ingenting har hänt, den ler inte urskuldande, sitter inte med knäna ihop och händerna i knät. Den slänger sig emot dig i allt sitt ursinne och sina spruckna vokaler i en euforiskt uppfriskande ilska. Och upprepar det genialiska mantrat »You bloody mother fucking asshole/Oh you bloody mother fucking asshole«.
Erika Hallhagen är nöjeschef på Svenska Dagbladet. Hon har »Bloody Mother Fucking Asshole« i topp på sin hundralista.
Lyssna också på:
Martha Wainwright, »You Cheated Me« (albumspår, I Know You're Married But I've Got Feelings Too, 2008)
Audio clip: Adobe Flash Player (version 9 or above) is required to play this audio clip. Download the latest version here. You also need to have JavaScript enabled in your browser.
Rufus Wainwright, »Oh What A World« (singel & albumspår, Want One, 2004)
Audio clip: Adobe Flash Player (version 9 or above) is required to play this audio clip. Download the latest version here. You also need to have JavaScript enabled in your browser.
Regina Spektor, »Fidelity« (singel & albumspår, Begin To Hope, 2006)
Audio clip: Adobe Flash Player (version 9 or above) is required to play this audio clip. Download the latest version here. You also need to have JavaScript enabled in your browser.
Lyssna på Nollnolltalet.se-listan på Spotify! Den finns både med Lyssna också-låtar, och utan.
Etiketter:
Martha Wainwright
,
Regina Spektor
,
Rufus Wainwright