Publicerat den
23 December 2009
under
Listan
av
Gästskribent
.
6 kommentarer
.
8. Daft Punk, »One More Time«
(singel & albumspår, Discovery, 2001)
Gästskribent: Billy Rimgard
De bästa låtarna är de som handlar om sig själva. Som Kylie Minogues »Can't Get You Out of My Head« vars titel lika mycket anspelar på la-la-la-melodin som på någon okänd du-person. Eller som Daft Punks »One More Time«, vars monotona loop påhejas av Romanthonys söndervridna röst som fyller något innehållslöst med mening.
Daft Punks Discovery var inte ett vanligt album. Parallellt med inspelningen av musiken skrevs manuset till filmen Interstella 5555 som senare förverkligades av animelegenden Leiji Matsumoto. Filmen saknar dialog och det som ackompanjerar hjältarna som kidnappas från sin hemplanet för att exploateras av cyniska skivbolag på jorden är fullängdaren i sin helhet.
När man tittar tillbaka känns det mer och mer som att det är omöjligt att separera de två. Albumet är så noggrant arrangerat för att passa handlingen att Discovery måste betraktas som en del av ett konceptuellt verk. Om inte annat så är det en klädsam ursäkt när man sitter i soffan och storbölar till de sista skälvande tre minuterna av »Too Long« (hjälten! statyn! barnet!).
När Interstella 5555 börjar står Stella, Arpegius, Baryl och Octavius och framför sin hit »One More Time« som galaxens coolaste band.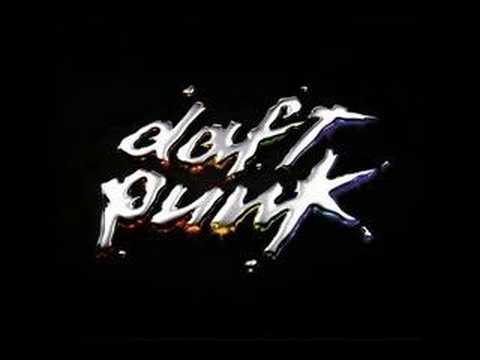 * Här skulle vi vilja ha klippet från Interstella 5555, men det går av någon outgrundlig anledning inte att bädda in. Finns här.
Deras uppträdande är så bländade att militärerna i rymdskeppen sitter fastklistrade framför tvn och därför missar när Onda Skivbolaget stormar planeten för att kidnappa dem.
Det är uppenbart varför det är en hit som skulle fungera lika bra på jorden som på deras hemplanet: »One More Time« är fluff. Den handlar om upprepning, om sig själv.
Nedplocket och uppbyggnaden är sådana klassiska klichéer att titeln »One More Time« lika gärna kan syfta på dansmusikens regelmässiga arrangemang. Upprepa den där loopen en gång till. Sjung med oss i de här betydelselösa orden en gång till. Go nuts när beatet kommer tillbaka en gång till.
Nedtecknad blir texten en lång rad tomma fraser, uttryck som låter bra bredvid varandra, och i normala fall skulle den ha tillhört en dussinlåt som fått en handfull spelningar i reklamradion och sen dött. Men över musiken förvandlas den plötsligt till en vädjan om att få greppa de där sista magiska ögonblicken i natten.
Stäng inte än, vi vill dansa en gång till. Låt det här aldrig ta slut, vi vill skrika en gång till. Om det måste vara över, låt oss komma tillbaka imorgon kväll. En gång till.
»One More Time« är lysande som parodi på popmusik vars lyrik kommer undan med formuleringar som »she loves you yeah yeah yeah«, men den är också den perfekta hymnen till natten när allting är möjligt, där alla bekymmer lämnades hemma för några timmar i stroboskopljuset. Den är i hela sin uppenbarelse en motsägelse som gör att vi inte vet om vi ska le och diskutera dess meta-betydelser eller om vi ska slänga händerna i luften och dansa. Oftast gör vi därför både och.
Billy Rimgard är musikskribent och har bidragit med texter om Phoenix och Felix Da Housecat till Nollnolltalet.se. Han tycker att »One More Time« är 00-talets allra bästa låt.
Lyssna också på:
Daft Punk, »Superheroes« (albumspår, Discovery, 2001)
Audio clip: Adobe Flash Player (version 9 or above) is required to play this audio clip. Download the latest version here. You also need to have JavaScript enabled in your browser.
Daft Punk, »Harder, Better, Faster, Stronger« (singel & albumspår, Discovery, 2001)
Audio clip: Adobe Flash Player (version 9 or above) is required to play this audio clip. Download the latest version here. You also need to have JavaScript enabled in your browser.
Mylo, »Drop The Pressure« (singel & albumspår, Destroy Rock & Roll, 2004)
Audio clip: Adobe Flash Player (version 9 or above) is required to play this audio clip. Download the latest version here. You also need to have JavaScript enabled in your browser.
Lyssna på Nollnolltalet.se-listan på Spotify! Den finns både med Lyssna också-låtar, och utan.
Etiketter:
Daft Punk
,
Mylo