Publicerat den
15 December 2009
under
Listan
av
Gästskribent
.
23 kommentarer
.
17. Morrissey, »First Of The Gang To Die«
(singel & albumspår, You Are The Quarry, 2004)
Gästskribent: Klara Grape
Varje småstad har nog sitt fotbollsgäng. Ni vet de där killarna som hängt ihop sedan de var fem år gamla och gick i fotbollsskola på söndagarna.
I stan jag växte i upp var fotbollskillarna de fräckaste. De hade namn som Martin, David eller kanske Tobbe. De använde rikligt med hårgele och hade jeans från Diesel. Detta var killarna som de flesta av tjejerna hade en crush på, och själva tyckte de bäst om brudarna i handbollslaget. Typ Tessan och Lollo.
Fotbollskillarna brydde sig inte speciellt mycket om musik och ansåg ungefär att den som lyssnade på något annat än NRJ, eller hade en t-tröja med ett bob hund-tryck på, var estet.
Hur som helst gick tiden, som den i regel gör, och fotbollsgänget tog studenten. Någon av dem började spela i Häcken och en annan slutade helt att lira boll.
En tredje fortsatte i stans A-lag och jobbade kvar på McDonalds. Det är här någonstans jag kommer in i bilden. Det är bland cheeseburgare och pommes som undertecknad för första gången på allvar snackar med en av de klassiska fotbollskillarna. Arbetsledaren på McDonalds, vi kan för enkelhetens skull kalla honom för Krallan.
Det var sommar, kanske juni månad och vädret var topp. I restaurangen var det mycket att göra och burgarna langades ut i 180 km/h. Radion spelade P3, samma låtar gång på gång. Själv väntade jag mest på en låt, Moz senaste. Den lite vemodigt mäktiga om Hector. Han som var den första i gänget att droppa av. Minns att jag älskade den dramatiska texten, melodin och det där gitarrsolot.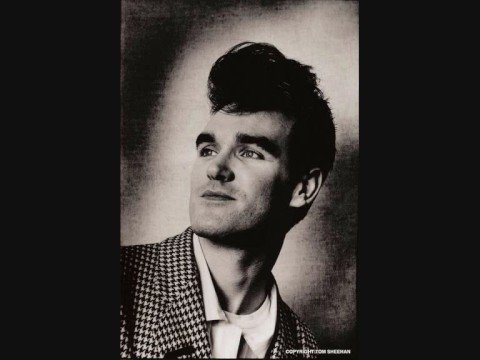 Detta var också sommaren då en av fotbollskillarna tragiskt gick bort. Hur har ingen betydelse, men alla snackade om det och trots solen låg en dyster ton över stan.
Det var den första lugna stunden efter ett hektiskt arbetspass och vi stod ett gäng bakom fritösen och pustade ut med varsin syrup-cola. Ur radion skrålade Morrissey och plötsligt tittade jag på Krallan och började berätta. Jag förklarade att jag tänkte på honom och hans polare när jag hörde låten. Vännen, döden, Hector och sommaren som försvann.
Krallan blev tyst, lyssnade för första gången på melodin. Han tittade allvarligt på mig och skulle precis säga något men avbröts av en busslast från Karlskrona. Hector glömdes bort, timmarna gick och vi stämplade ut.
Dagen därpå dök han upp i personalrummet med ett leende. Krallan tittade på mig och berättade att han hade lyssnat på »First Of The Gang To Die« med Morrissey. Han gillade den. Han hade tänkt efter, tänkt på sin vän. Han sa att det var fint.
Jag kan knappast beskriva stoltheten jag kände när jag cyklade hem till Malmgatan den där sommarkvällen. Jag hade fått en av fotbollskillarna att lyssna på Moz. Och inte vilken fotbollskille som helst.
Klara Grape är journaliststudent och dj. Hon har tidigare skrivit på Nollnolltalet.se om The Tough Alliance »Make It Happen«.
Lyssna också på:
Morrissey, »Irish Blood, English Heart« (singel & albumspår, You Are The Quarry, 2004)
Audio clip: Adobe Flash Player (version 9 or above) is required to play this audio clip. Download the latest version here. You also need to have JavaScript enabled in your browser.
Morrissey, »I Have Forgiven Jesus« (singel & albumspår, You Are The Quarry, 2004)
Audio clip: Adobe Flash Player (version 9 or above) is required to play this audio clip. Download the latest version here. You also need to have JavaScript enabled in your browser.
Morrissey, »You Have Killed Me« (singel & albumspår, Ringleader Of The Tormentors, 2006)
Audio clip: Adobe Flash Player (version 9 or above) is required to play this audio clip. Download the latest version here. You also need to have JavaScript enabled in your browser.
Lyssna på Nollnolltalet.se-listan på Spotify! Den finns både med Lyssna också-låtar, och utan.
Etiketter:
Morrissey