Publicerat den
28 December 2009
under
Listan
av
Gästskribent
.
8 kommentarer
.
4. Broder Daniel, »Shoreline«
(singel & albumspår, Cruel Town, 2003)
Gästskribent: Anna Swantesson
Cheferna på TV4 måste antingen ha varit lite godtrogna eller märkligt streetsmarta med framtidskoll. De litade i alla fall på redaktionen för Sen Kväll Med Luuk när de hösten 2001 tyckte att Broder Daniel, ett i ärlighetens namn halvsmalt indieband, skulle göra comeback i deras allra största talkshow. Ett program där Madonna, Bruce Springsteen och Roxette tidigare hade varit gäster. Dessutom skulle Kronprinsessan Victoria medverka i samma program. Det skulle vara ungefär som om [ingenting] spelade hos Skavlan istället för Melody Gardot.
Kanske lät sig TV4-folket övertalas av att den där nya svenska popstjärnan i matroskläder spelade bas i bandet och att killen som gjort P3-hitten »Mon Amour« spelade gitarr. (Dock föga troligt att de gick igång på att Embassy-Fredrik medverkade på tamburin.)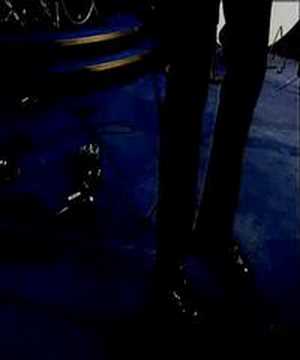 Luuk-uppträdandet var fantastiskt, det kändes som en omedelbar klassiker, men det var det som hände efteråt som var intressant. För bandets comeback kom av sig och det dröjde två år innan »Shoreline« släpptes på riktigt.
Varken jag eller någon jag kände hade börjat ladda ner musik från nätet ännu. Det enda sättet att få tag på musik var på hederliga cd-skivor. Jag tror att det var Sladjan Osmanagic (numer fotbollsexpert, då bandbokare på Sen Kväll Med Luuk) som läckte ut en skiva med uppträdandet på cd. Den vintern ville alla ha den där skivan. Den var sjukt eftertraktad. Jag kommer till och med ihåg att de utvalda gick omkring och bar på den i jackfickan, dels för att imponera, men framförallt för att man kanske skulle till en krog där man ville höra låten (risken fanns ju att dj:n inte fått tag på skivan).
Det här var dimmiga dagar av dans dans dans och det är svårt med minnet. Men när jag blundar och lyssnar på den där bootlegen så ser jag någon snubbe från klubbkollektivet Bomben, förmodligen Gustav Gelin, framför mig. Full som en kastrull. Röd i ansiktet. Uppsnärjd i det blå, på en bardisk på den lilla baren Och Det Stora Havet på Södermalm. Lycklig men med tårar i ögonen. Vi-mot-dom-näven i luften. Skrålandes:
Ever since I was eight or nine
I've been standing on the shoreline
For all my life I've been waiting
For something lasting
You lose your hunger and you lose your way
You get confused and then you fade away
Oh this town
Kills you when you are young
Popmusik handlar väldigt mycket om tröst. Att få känna att man inte är ensam. Någon annan har känt samma sak förut och nu känner vi det tillsammans. Den skakar om, omfamnar och innesluter.
Det finns inget svenskt band som är bättre på det än Broder Daniel.
Broder Daniel är den där sortens grupp som räddar liv. Och att de bokstavligen gjort det förstod man på riktigt efter Anders Göthbergs bortgång när man läste inläggen på BD:s hemsida. Broder Daniel gör saker med en på fyra minuter som inte fem år hos en psykolog kan hjälpa en med.
När Broder Daniel slog igenom påstods det att Henrik Berggren inte kunde sjunga och att bandet inte kunde spela. Det må vara hänt, även om de flesta av oss inte håller med. Men de kan rädda liv, och det är det väldigt få band som kan.
Anna Westman Swantesson är journalist och har skrivit om Hot Chip och T.I. längre ner på Nollnolltalet.se-listan. Hon tycker att »Shoreline« är 00-talets tredje bästa låt.
Lyssna också på:
The Plan, »Let's Leave« (singel & albumspår, The Plan, 2001)
Audio clip: Adobe Flash Player (version 9 or above) is required to play this audio clip. Download the latest version here. You also need to have JavaScript enabled in your browser.
Franke, »Ställs mot dig« (singel & albumspår, Optimismens hån, 2003)
Audio clip: Adobe Flash Player (version 9 or above) is required to play this audio clip. Download the latest version here. You also need to have JavaScript enabled in your browser.
Bad Cash Quartet, »Big Day Coming« (singel & albumspår, Outcast, 2001)
Audio clip: Adobe Flash Player (version 9 or above) is required to play this audio clip. Download the latest version here. You also need to have JavaScript enabled in your browser.
Lyssna på Nollnolltalet.se-listan på Spotify! Den finns både med Lyssna också-låtar, och utan.
Etiketter:
Bad Cash Quartet
,
Broder Daniel
,
Franke
,
The Plan