Publicerat den
23 September 2009
under
Listan
av
Kim Nordberg
.
10 kommentarer
.
100. Michael Jackson, »You Rock My World«
(singel & albumspår, Invincible, 2001)
Vid midnatt den 21 september 2001 satt jag och väntade på att Michael Jacksons nya video »You Rock My World« skulle ha premiär på nån kabeltvkanal i mitt föräldrahem. Femton minuter senare ringde min kompis som också hade väntat uppe och frågade vad jag tyckte. Jag svarade lite osäkert: vad tyckte du?
När Michael dog knattrade tangentborden som kulsprutor. Minnestalen växte och svällde. Han var en stor sång- och dansman, en jättebra artist. Alla var överens. Konstig. Men jättebra.
Så djupa var analyserna av världshistoriens största artist. En sällsynt Peter Pan, uppflugen i ett träd på Neverland Ranch, både vit och svart, både man och kvinna, med blonda barn och hemliga fruar, med ett konstnärligt uttryck som måste vara det märkligaste som mainstreamfåran har tillåtit någonsin.
Materialet skriker ju efter att få tolkas och omtolkas.
Själv saknar jag inte minst den filmvetenskapliga analysen av varför han i sina videor så tjurskalligt höll fast vid idén om sig själv som bad boy, trots att han i övrigt hade en så könlös utstrålning.
Det går en mycket konsekvent linje från videon till »Beat It«, via »Smooth Criminal«, »The Way You Make Me Feel«, »Black Or White«, »Blood On The Dance Floor« − fram till hans sista obegripliga kraschlandning »You Rock My World«.
Det insåg jag den kvällen.
Videon, eller som det ofta brukar handla om i Michaels värld – kortfilmen, är regisserad av slätstrukne kändisregissören Paul Hunter. Förutom komikern Chris Tucker i rollen som Michaels tokiga wingman, syns också gudfadern Marlon Brando och b-filmsgangstern Michael Madsen.
Plotten är den vanliga: Michael ska ragga upp en mystisk tjej i en dålig del av stan, men hindras av ruffiga gangstertyper. För att avgöra vem av dem som är tuffast anordnas en danstävling. Michael vinner som vanligt och får därför tjejen.
»You Rock My World« är sinnessjukt svängig. Refrängkören har samma typ av sug som fanns i »Billie Jean« och »Who Is It«. Faktiskt är hela Michael Jacksons sista skiva bisarrt underskattad. Lyssna på »Whatever Happens« nedan. Det är en av hans bästa låtar.
När jag listade mina hundra favoritlåtar från 00-talet hade jag »You Rock My World« på fjärde plats.
PS. Jag föredrar nog versionen nedan framför den officiella videon. Detta är dessutom är ett av få sena videoklipp där Michael uppträder helt utan play- eller singback. Sevärt.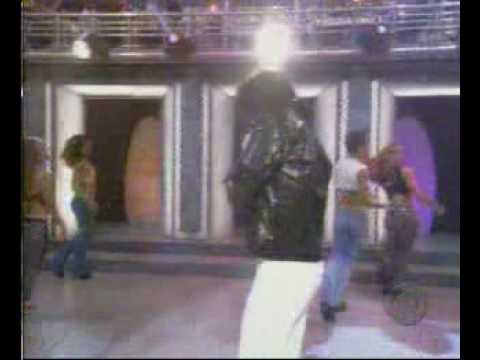 Lyssna också på:
Michael Jackson, »Whatever Happens« (albumspår, Invincible, 2001)
Audio clip: Adobe Flash Player (version 9 or above) is required to play this audio clip. Download the latest version here. You also need to have JavaScript enabled in your browser.
Usher feat. Young Jeezy, »Love In This Club«, (singel & albumspår, Here I Stand, 2008)
Audio clip: Adobe Flash Player (version 9 or above) is required to play this audio clip. Download the latest version here. You also need to have JavaScript enabled in your browser.
Damian Marley, »Welcome To Jamrock«, (singel & albumspår, Welcome To Jamrock, 2005)
Audio clip: Adobe Flash Player (version 9 or above) is required to play this audio clip. Download the latest version here. You also need to have JavaScript enabled in your browser.
Playlist med hundralistan plus "Lyssna också"-låtar. Kommer att fyllas på allt eftersom fler låtar avslöjas.
Etiketter:
Damian Marley
,
Michael Jackson
,
Usher