Publicerat den
22 December 2009
under
Listan
av
Maggie Strömberg
.
2 kommentarer
.
9. Robyn, »Be Mine«
(singel & albumspår, Robyn, 2005)
Genom en smått otrolig slump hamnade Robyns »Be Mine« och hennes Kleerup-samarbete »With Every Heartbeat« på exakt samma poängsumma när vi räknade ihop Nollnolltalet.se-listan. Därför presenterar vi båda låtarna på samma dag, och med en enda text om Robyn.
Maggie: Nu är det lördag. Jag är trött på Hultsfred. Men idag är det mina topp3, fotbollen, håkan och robyn. På samma dag! Fint.
It's a good thing tears never show in the pouring rain
Linn: Vilken bra idé i sms:et: Robyn istället för Morrissey! Det låter ju helt givet. Men alltså, vet du något om vilket nummer det är meningen jag ska vara med i och när det i så fall är deadline osv?
As if a good thing ever could make up for all the pain
Maggie: Robyn var fantastisk igår. Jag var arg och tänkte att jag skulle göra slut, fast det gick över efter konserten. Alltså det var robyn som gjorde mig arg. Så stod jag där och önskade att du skulle skriva om henne för din beskrivning av hur hon går in och ut ur karaktärer var så himla exakt. Hon hade röda lösögonfransar och var så jävla cool. Som extranummer gjorde hon be mine akustiskt. Då var det nästan ingen kvar. Solen hade gått upp och det var så jävla jävla kallt och det kom rök ur munnen och jag kunde inte skrika mellan låtarna utan mest dra efter andan för att det var så bra.
There'll be no last chance I promise to never mess it up again
Just the sweet pain of watching your back as you walk
As I'm watching you walk away
Fanny: ps Robyn ska sommarprata i år!!! 20 juli.
It's a cruel thing you'll never know all the ways I tried
It's a hard thing faking a smile when I feel like I'm falling apart inside
Karin: Alltså jag vill verkligen vara en bra dj på fredag. Åh vad jag vill det. Ska sitta och klura på pepp pepp pepp-musik hela veckan. Åh vad jag vill att folk ska dansa och ha roligt. Jag vill spela BRA låtar som inte bara är fulhits. Ååååååååh. Och så jävla oskuldstema! Jag gjorde direkt kopplingen till låtar som handlar om dåligt sex, men det kom jag inte heller på några… Brainstorming!
Fanny: ROBYN med JACK U OFF!! princecover men å satan i gatan vad bra den är, jag tror det var jag och helena som pratade om att den tjejen unnar man fan hennes framgång.
(I saw you at the station, you had your arm around
Whats her name? She had on that scarf I gave you
you got down to tie her laces)
Cause you never were, and you never will be mine
(You looked happy and that's great)
No, you never were, and you never will be mine
(I just miss you, that's all)
Linn: Det här är inte en utav mina överdrifter utan fullkomlig sanning: jag tänker på Robyn varje dag. Jag tror att det måste vara så att hon är min idol.
There's a moment to seize everytime that we meet
But you always keep passing me by
No, you never were, and you never will be mine
Karin: Jag tänker också på Robyn jätteofta! Jag brukar sitta och kolla på perezhilton.com, han gillar ju henne. Och varje gång han postar något om henne kommer det hundra kommentarer om att hon är ful, tjock, dålig och gammal, att hennes hår ser konstigt ut, är hon en kille eller tjej, osv. Det är konstigt. De är konstiga, amerikanarna. Jag tycker Robyn är så jävla bra och cool och skithet.
Tell me would it make you happy baby
Linn: Robyn är den absolut hetaste som finns! Men t.ex. Arnar säger att hon är typ den sista i världen som han skulle ligga med. Vilket med lite snabb empiri betyder: alla tycker olika. Eller alltså: folk verkar älska eller hata.
So I don't look back
Still I'm dying with every step I take
Helena: hörrni, ni missar väl inte robyn på tv idag! tvåan, 21.30.
Maybe we could make it alright
We could make it better sometime
Maybe we could make it happen baby
jag: hej. .tycker du min nollnolltext är för låg nivå? jag kan va bättre på robyn
We could keep trying but things will never change.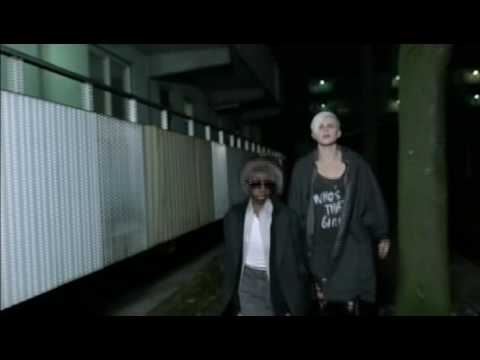 Maggie Strömberg är reporter på Sydsvenskan och redaktör för Magasinet Novell. Hon har »Be Mine« på tredje plats och »With Every Heartbeat« på artonde plats på sin lista över 00-talets bästa låtar. Klubbkollektivet Ny Tid Ny Strids maillista är planerad att ges ut i bokform.
Lyssna också på:
Robyn, »Who's That Girl« (singel & albumspår, Robyn, 2005)
Audio clip: Adobe Flash Player (version 9 or above) is required to play this audio clip. Download the latest version here. You also need to have JavaScript enabled in your browser.
Robyn, »Handle Me« (singel & albumspår, Robyn, 2005)
Audio clip: Adobe Flash Player (version 9 or above) is required to play this audio clip. Download the latest version here. You also need to have JavaScript enabled in your browser.
Robyn, »Cobrastyle« (albumspår, den internationella utgåvan av Robyn, 2007)
Audio clip: Adobe Flash Player (version 9 or above) is required to play this audio clip. Download the latest version here. You also need to have JavaScript enabled in your browser.
Lyssna på Nollnolltalet.se-listan på Spotify! Den finns både med Lyssna också-låtar, och utan.
Etiketter:
Robyn