Publicerat den
1 December 2009
under
Listan
av
Gästskribent
.
1 kommentar
.
31. Peter Bjorn And John, »Young Folks«
(singel & albumspår, Writer's Block, 2006)
Gästskribent: Pelle Tamleht
Sommaren 2006 hade jag mitt livs första ålderskris. För att lindra denna beslöt jag mig för att tillsammans med två andra unga män knappt trettio göra den resa som alla unga män knappt trettio drömmer om att göra. En bilresa längs Pacific Coast Highway från San Fransisco till Los Angeles med dekadent avslutning i Las Vegas.
Jag var den som inte ville köra fortare än 50, som ville stanna till i precis varenda håla vars namn gick att härleda till en låttitel och som ville dricka milkshakes på Santa Monica Bay-piren. För att spä på klyschan ytterligare hade jag precis innan avfärden från San Fransisco inhandlat en Martin-gitarr. Det fördolda syftet med resan var nämligen förutom att fly mitt åldrande även att köpa mig en sådan för att sedan smuggla in den i Sverige. Dollarn var låg. Den fick mest ligga i sitt fodral i bagageluckan, men när den åkte fram gjorde den det med besked.
Att det under resans gång hände saker jag förmodligen aldrig kommer att berätta för mina föräldrar kan nog en apa räkna ut. Men vi tog oss åtminstone på ett eller annat sätt ner till Los Angeles och in på ett Econo Lodge där några dagar tillbringades med att testa lightversioner av olika ölsorter. Utbudet var enormt. Heineken light var bäst.
Efter en stundens ingivelse och en 45-minuters taxiresa befann vi oss plötsligt en natt i kön till en het LA-klubb. Precis när vi blev insläppta och trädde in på dansgolvet satte det välbekanta visslet igång i högtalarna. Där och då, stupfull på ett diskotek i LA, kände jag helt plötsligt inte bara en enorm stolthet över att vara svensk. Jag kände också för kanske första gången i hela mitt liv att det inte var så farligt att bli äldre.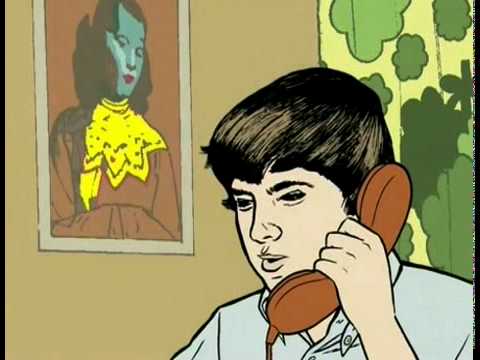 Hela den följande dagens bilresa genom Nevadaöknen visslade jag på den där melodin som man på något oförklarligt sätt fortfarande inte har tröttnat på. Jag spelade självklart bort alla mina pengar relativt kvickt i Las Vegas och for därefter hem till Sverige och verkligheten.
Ålderkrisen då? Jo, den är givetvis kronisk och blossar med jämna mellanrum upp, som herpesblåsor på vårkanten. Men jag lindrar symptomen med att skriva banala texter om att göra slut, springa på klubbar för många dagar i veckan och lyssna på vissellåtar. När det är riktigt illa blandar jag häxa i en PET-flaska, stänger in mig i min garderob och tröstar mig med att jag i alla fall inte har blivit tunnhårig. Än.
Pelle Tamleht är krogredaktör på Nöjesguiden. Han tycker att Beyoncés »Halo« är 00-talets bästa låt, och »Young Folks« den åttonde bästa.
Lyssna också på:
Shout Out Louds, »Tonight I Have To Leave It« (singel & albumspår, Our Ill Wills, 2007)
Audio clip: Adobe Flash Player (version 9 or above) is required to play this audio clip. Download the latest version here. You also need to have JavaScript enabled in your browser.
The Plan, »Mon Amour« (singel & albumspår, The Plan, 2001)
Audio clip: Adobe Flash Player (version 9 or above) is required to play this audio clip. Download the latest version here. You also need to have JavaScript enabled in your browser.
The Concretes, »Chosen One« (singel & albumspår, In Coulour, 2006)
Audio clip: Adobe Flash Player (version 9 or above) is required to play this audio clip. Download the latest version here. You also need to have JavaScript enabled in your browser.
Lyssna på Nollnolltalet.se-listan på Spotify! Den finns både med Lyssna också-låtar, och utan.
Etiketter:
Peter Bjorn & John
,
Shout Out Louds
,
The Concretes
,
The Plan