Publicerat den
24 November 2009
under
Listan
av
Martin Romatowski
.
5 kommentarer
.
38. The White Stripes, »Seven Nation Army«
(singel & albumspår, Elephant, 2003)
Helt plötsligt fanns de bara där, tvåmannabanden som spelade opolerad rockblues i 00-talsskrud.
På 2003 års Roskildefestival gick det upp för mig att The White Stripes hade gjort ett märkbart avtryck i sin samtid. På scenerna stod The Kills och The Raveonettes och spelade inför en ny generation Converseungdomar, samtidigt som den dammiga festivalcampingen dränktes i toner från bandspelare med Black Rebel Motorcycle Club och Yeah Yeah Yeahs på högsta volym.
Rocken var inte död, den var i allra högsta grad levande och på språng.
The White Stripes hade bildats 1997. Elephant, garagerockduons fjärde album, var ett verk från ett band som redan hade etablerat sig som en av sin generations mest inflytelserika kreatörer. Där The Strokes sakta men säkert slocknade likt en döende stjärna och The Hives aldrig var mer än några hitlåtar och ett ihärdigt gimmickmakande, lyckades The White Stripes gång på gång få ur sig konsekvent starka och konstnärligt utmanande album. Det var som om Jack och Meg White hade sålt sina själar till djävulen, på ganska exakt samma sätt som Robert Johnson hade utövat byteshandel med hin håle i 30-talets Mississippi.
»Seven Nation Army« är kronjuvelen på Elephant, en nästan fyra minuter lång historia som kretsar kring ett simpelt riff som Jack White snodde från ledmotivet i Anton Bruckners Symfoni nr 5. På karaktäristiskt vis ömsom gormar, ömsom väser, bandets starke man fram sina milimeterexakta ångvälter till textrader. Allt understöds av Meg Whites perfekt kliniska trumspel.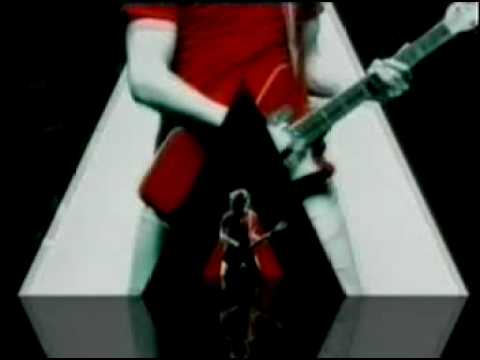 »Seven Nation Army« är rock när den är som mest matematiskt fulländad, utan att tappa i spiritualitet.
Den succé som »Seven Nation Army« gjorde 2003 och under de efterföljande åren hade mycket väl kunnat förbli en intern indierockaffär. Men i stället snappades låten upp, flera år efter att Elephant hade släppts, av fotbollsfans runtom i Europa. Den blev till en läktaranthem som bar Buffon, Cannavaro och de andra i »gli azzuri« på sina rytmiska axlar, ända fram till ett efterlängtat VM-guld 2006. Än i dag är det inte ovanligt att hela läktarsektioner i Liverpool eller Rom manar på sina respektive gunstlingar genom att vråla ut »Seven Nation Army« i någon form av löst synkroniserad kanonvariant.
Och när Jack Whites repetitiva gitarrslinga väl hade etablerats och funnit sin plats i det allmänna musikmedvetandet blev det högsta mode att spela låten ute. Helt plötsligt kunde minimalistisk bluesrock från Detroit höras på allt från Båstads champagneindränkta partyn till Babasonic i Stockholm. »Seven Nation Army« hör helt enkelt till den exklusiva skaran 00-talslåtar som tog klivet över från DIY-världen till de breda massornas gunst, men fortfarande med hedern och den konstnärliga integriteten i behåll. Det, om något, är en fjäder i den rödvita The White Stripes-hatten.
Martin Romatowski är Nollnolltalet.se:s ambulerande reporter. Han tycker att »My Love« med Justin Timberlake feat. T.I. är 00-talets bästa låt.
Lyssna också på:
The White Stripes, »Fell In Love With A Girl« (singel & albumspår, White Blood Cells, 2002)
Audio clip: Adobe Flash Player (version 9 or above) is required to play this audio clip. Download the latest version here. You also need to have JavaScript enabled in your browser.
Primal Scream, »Accelerator« (singel & albumspår, XTRMNTR, 2000)
Audio clip: Adobe Flash Player (version 9 or above) is required to play this audio clip. Download the latest version here. You also need to have JavaScript enabled in your browser.
Black Rebel Motorcycle Club, »Whatever Happened To My Rock 'n' Roll (Punk Song)« (albumspår,B.R.M.C., 2000)
Audio clip: Adobe Flash Player (version 9 or above) is required to play this audio clip. Download the latest version here. You also need to have JavaScript enabled in your browser.
Lyssna på Nollnolltalet.se-listan på Spotify! Den finns både med Lyssna också-låtar, och utan.
Etiketter:
Black Rebel Motorcycle Club
,
Primal Scream
,
The White Stripes