Publicerat den
28 September 2009
under
Listan
av
Gästskribent
.
1 kommentar
.
95. Damien Rice, »The Blower's Daughter«
(singel & albumspår, O, 2002, och soundtracket till Closer, 2004)
Gästskribent: Kristin Nord
Den börjar som ett fladder i mellangärdet och plötsligt har den, med hjälp av fiolen, letat sig rakt in i tårkanalen, lagom till det första »I can't take my eyes off of you«. »The Blower's Daughter« är ett ömsint inslaget känslopaket, med Natalie Portman på grattis-etiketten och Damien Rice som avsändare, rösten som så precist balanserar det hjärtskärande och högstämda åt rätt håll om patetiken. Låten är den enda jag kan nämna av Rice – vilket i sig är symptomatiskt för detta shuffle-decennium, där låtar skulle kunna stå helt för sig själva i en spellista på Ipoden.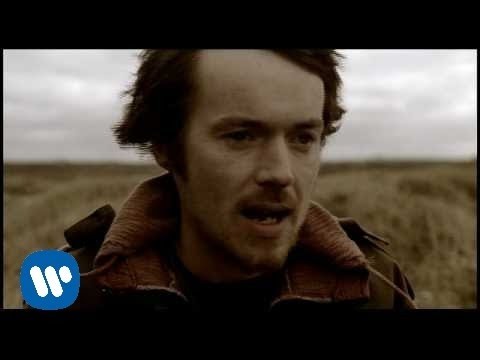 »The Blower's Daughter« släpptes som förstasingel 2001 inför Damien Rices debutalbum O, men jag och många med mig upptäckte den inte förrän tre år senare. Vi hade bänkat oss för att kolla in relations-snacke-filmen Closer med den välavlönade fyrklövern Julia Roberts, Jude Law, Clive Owen och Natalie Portman, denna nollnoll-talets filmnymf, som äntligen hade passerat den olovliga lillasyster-åldern och nu kunde åtrås fullt ut. Helt omöjlig att slita blicken från där hon svävar gatan fram med illrött hår i filmens inledningsscen.
Closer slutar med en spegelvänd sekvens av inledningen, och låten igen. Fyra personer har upplevt kärlek och svek, hjärtlöst sex och hårda ord. Ingen blev något vidare lycklig, möjligtvis en, och Jude Law visade sig vara ett egoistiskt jävla svin. Rätt åt honom att han går där med henne i sitt huvud, omöjlig att radera där hon svävar gatan fram, denna gång i mer typiskt it-girl-hårsvall.
»The Blower's Daughter« är en låt att känna sig eländig till på det där renande sättet. Den hamnade på sjätte plats på min hundra-lista.
Kristin Nord är featurejournalist på Sydsvenskan. Hon tycker att »The Blower's Daughter« är 00-talets sjätte bästa låt, och att Antony & The Johnsons »For Today I Am A Boy« är den bästa.
Lyssna också på:
The Shins, »New Slang« (singel & albumspår, Oh, Inverted World, 2001, och soundtracket till Garden State, 2004)
Audio clip: Adobe Flash Player (version 9 or above) is required to play this audio clip. Download the latest version here. You also need to have JavaScript enabled in your browser.
Beck, »Everybody's Gotta Learn Sometime« (soundtracket till Eternal Sunshine Of The Spotless Mind, 2004)
Audio clip: Adobe Flash Player (version 9 or above) is required to play this audio clip. Download the latest version here. You also need to have JavaScript enabled in your browser.
The Moldy Peaches, »Anyone Else But You« (albumspår, The Moldy Peaches, 2001, och soundtracket till Juno, 2007)
Audio clip: Adobe Flash Player (version 9 or above) is required to play this audio clip. Download the latest version here. You also need to have JavaScript enabled in your browser.
Playlist med hundralistan plus "Lyssna också"-låtar. Kommer att fyllas på allt eftersom fler låtar avslöjas.
Etiketter:
Beck
,
Damien Rice
,
Kristin Nord
,
The Moldy Peaches
,
The Shins